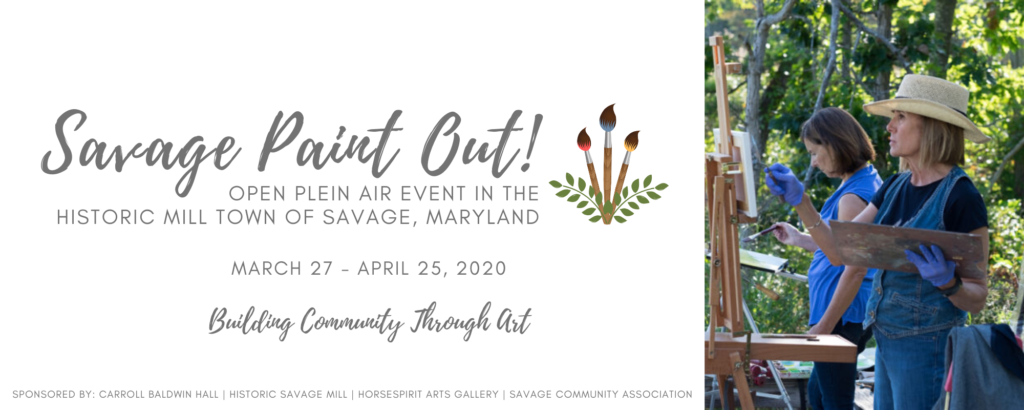 Our Paint Out Event has been Postponed – Please check back for updates!
Our first annual Savage Paint Out (Mini Plein Air) 2020, gives artists of all ages & experience the chance to paint an outdoor scene in the historic mill town of Savage, MD.  Our nearly month-long Savage Paint Out is an opportunity to build community through Art and explore Savage!
We are very grateful to Ms. Liz Henzey, Director of the Columbia Art Center, Columbia, MD for being our Art Show Awards Juror, and to our local sponsors: Carroll Baldwin Hall, Historic Savage Mill, HorseSpirit Arts Gallery, and the Savage Community Association.
---
Kick Off Reception & Registration:
Friday, March 27th from 6:00pm – 8:00pm
HorseSpirit Arts Gallery located at Historic Savage Mill, Cotton Shed/Barn
Artists of all ages invited
No Entry Fee
First 100 Artists to register will be accepted into the Art Show
Boundary maps of the Savage Geographic Painting area will be provided
Festive food and beverages will be served
---
On-line Registration:
Saturday, March 28th – Friday, April 10th
Artist may register online, space permitting at www.savagemill.com/pleinair
---
Painting Requirements:
Painting begins Saturday, March 28th
Painting ends Thursday, April 23rd
Painting must be done outside, "plein air" style
Artists must paint within the boundaries of the Savage Geographic Painting Area CLICK HERE TO DOWNLOAD MAP
Artist may paint in any media (e.g., oil, pastel, acrylic, watercolor, mixed media, etc.)
Artists may enter only one painting into the Art Show
Paintings cannot exceed 16" x 20" in size
---
Painting Drop Off:
Friday, April 24th, between 10:00am – 1:00pm
Carroll Baldwin Hall – 9035 Baltimore Street, Savage, MD 20176
Artists must bring a standing or tabletop easel on which to present their painting
Artists offering their painting for sale must provide a price and are responsible for taking payment directly from the buyer
Artist must sign a waiver agreeing to assume all risk of damage to or loss of painting
---
Art Show Day:
Saturday, April 25th from 10:30am – 2:30pm
Carroll Baldwin Hall
Food, beverages, and live music to be enjoyed
Schedule of events:

10:30am: Doors open to the public

Art indicated for sale can be purchased by a buyer
Public voting begins for People's Choice Award for Best Painting

12:30pm: Public voting closes for People's Choice Award
1:00pm: A welcome from Howard County Leadership & Event Sponsors
1:15pm: Art Show Awards Ceremony

Savage Community Association Award  – Best Painting by Artist living within Savage Geographic Boundary presented by Susan Garber, President of the Savage Community Association
Savage Paint Out Art Show Awards presented by Ms. Liz Henzey, Director of the Columbia Art Center CLICK HERE FOR BIO

1st Place
2nd Place
3rd Place
Two Honorable Mentions

All Prizes donated by Event Sponsors and the many Merchants of Historic Savage Mill

2:30pm: Art will be available for pick up by Artist or Buyer