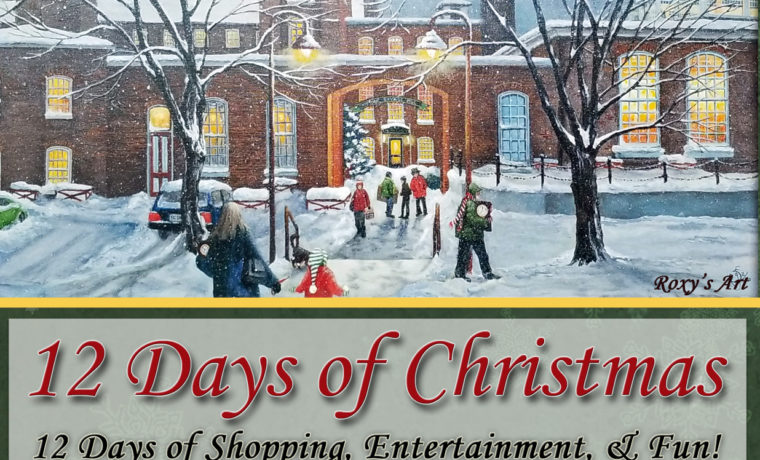 Enjoy Twelve Days of Shopping, Entertainment, and Fun!
Wednesday, Dec. 12: Give Cheer
Participating merchants will donate a portion of all sales to a charity of their choice. 
Thursday, Dec. 13: Season's Greetings
Come to the Mill to purchase, make, decorate, or write out holiday cards. Each participating merchant will have a different activity!
Friday, Dec. 14: Deck the Halls
Create your own special holiday ornaments! Stroll the mill and collect some new cheer for your tree. 
Saturday, Dec. 15: Ugly Sweater Day
Show off your ugly sweater, take a picture here at the mill, post & tag the mill for a chance to win a prize. 
Sunday, Dec. 16: Smile!
Snap a picture in each participating merchant's photo frame and tag @historicsavagemill for a chance to win prizes! Use our props or bring your own. 
Monday, Dec. 17: Treat Yo'self
Reward yourself while shopping for others. Participating merchants will offer a gift or gift card with qualifying purchases.
Tuesday, Dec. 18: Paper, Ribbons, & Bows, Oh My!
Our elves will gift wrap your purchases! Wrapping is free, and donations to the organization are encouraged.
Wednesday, Dec. 19: It's the Little Things
It's time to stuff those stockings! Check out the deals on stocking stuffers from participating merchants.
Thursday, Dec. 20: If You Give a Mouse a Cookie…
Enjoy eating and decorating cookies throughout the mill. Just save room for tomorrow's hot cocoa!
Friday, Dec. 21: A Christmas Carol
Enjoy a variety of warm beverages at different locations all day. Be sure to join us for evening caroling from 6-8!
Saturday, Dec. 22: A Christmas Story
Occupy the family while you handle last minute shopping and wrapping. We'll be screening family-friendly holiday movies in the New Weave building all day. BYOB (Bring Your Own Blanket)!
Sunday, Dec. 23: Reindeer Games
Relax, play some games, and do your last-minute shopping.