The other day we chanced upon Red Bridge Studios manager Colleen Daly Eberhardt arriving at her front door. Although Red Bridge Studios is located adjacent to our offices, our schedules seldom overlap. We took advantage of this rare opportunity to peek inside their space and chat a bit about the business
Why did you choose Savage Mill for your business?
Having been Howard County residents for many years, we knew The Mill to be a hub of creativity and community and wanted to bring our particular artistic resources to this unique and perfectly situated location. Because we cater to students and clients from Howard County and throughout the Baltimore/Washington metropolitan region, we knew we needed a location that was close to it all, but we loved the historic architecture and small-town community feel the Mill provides.
What atmosphere do you foster in your space?
We call our business "Red Bridge Studios" in honor of the historic and iconic Bollman Truss bridge on the property, but also because we loved the concept of being that "bridge" that clients and students can utilize to take them from one level of their study or profession to the next. We believe that in order to do this, we have to cater to the individual needs of the artist, not offer the same cookie-cutter business model that other studios offer their clientele. So our space feels intimate, relaxed, and creative – we want you to feel at home AND inspired to make your best music!
What kinds of instruction does Red Bridge Studios offer?
Red Bridge is part recording engineering, part music and acting instruction. We record audio books, commercials, singles, audition videos, and anything in between. Our instruction includes voice lessons of all genres of music, piano, percussion, low brass, and acting. We offer in-person and virtual instruction.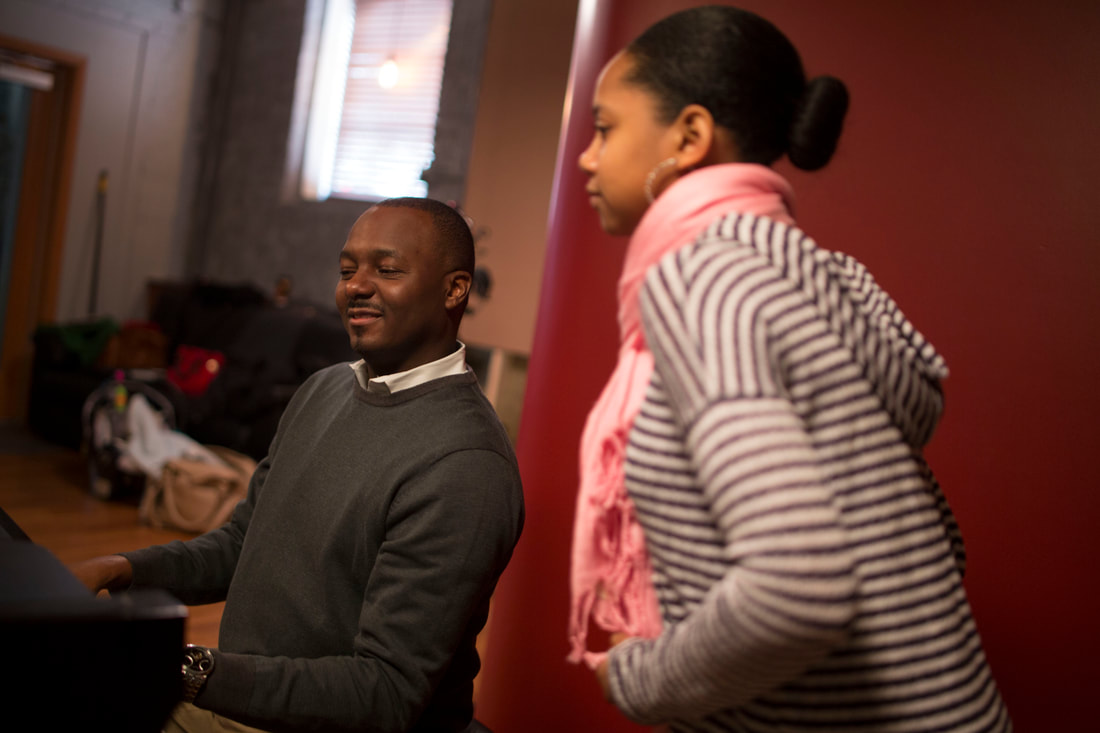 What motivates someone to take voice or acting lessons? And how can those skills transfer to other areas of life?
We have students who are pursuing professional performance careers and students who simply love the craft. We have people who want to be better at communicating in general, or at public speaking, or have a better awareness of their own instrument, or simply love making music. We welcome students of all ages, levels, and abilities!
What kinds of experiences and skills do the instructors bring with them?
Our instructors are teaching artists with a unique mastery of their craft. Their performance and teaching credits include professional theaters and concert halls across the world, such as the Kennedy Center, Carnegie Hall, and Disney, as well as film and tv. We're proud to have several Emmy- and Grammy-nominated artists and educators.

Could you share a student success story of which Red Bridge is especially proud?
We are proud of all of them! We have students who have gone on to the most competitive conservatories and universities for musical theater and classical music, students who are performing on and off Broadway, as well as artists that have produced their own albums, singles, and books. But we're also proud of the student who used to be terrified of speaking in public and now welcomes the opportunity to do so, the student that is more readily able to connect with people, to communicate more effectively with their own unique voice, whether on stages across the world, or in their day-to day interactions at the grocery store!