Gay Day @ The Mill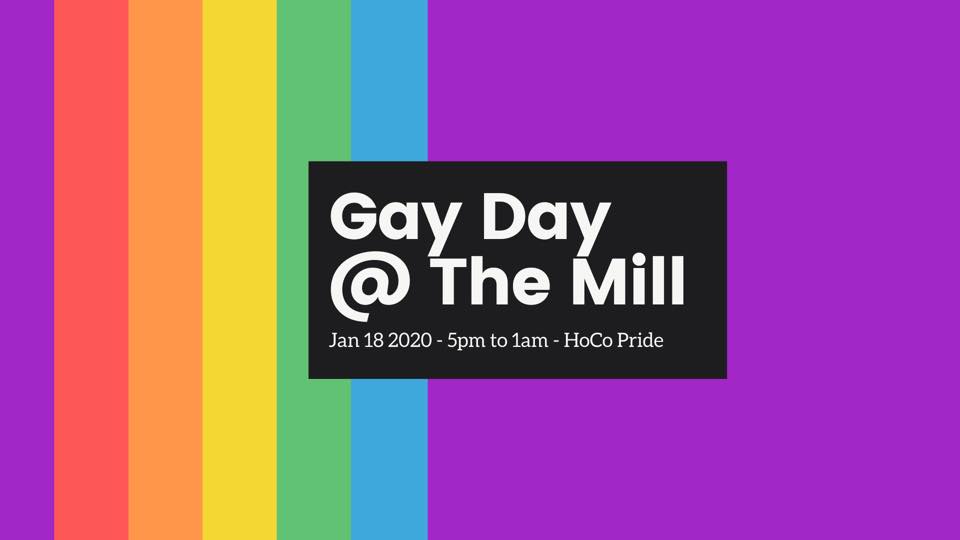 Your Identity. Our Community. Together.
Help Howard County Pride raise money for their 2020 HoCo Pride event this coming summer! Show off your pride and join us for Gay Day @ the Mill on Saturday, January 18th !
There's something for everyone! Family, friends, or new faces!
The event will include:
🎤 talent show & concert
🎯 games & competitions
🎫 raffles & swag
🍹 food & drinks
👑 drag queens!
More details to come.
We can't wait to see you there!
Sign up to entertain (family friendly or adult only):
https://www.cognitoforms.com/HoCoPride/GayDayTheMillEntertainmentApplication?fbclid=IwAR3pHVArUrHb6gWsydunGRiQzjubOxUKpNlj0zqewIQ-KlRuAo1hPGFPjmU
Sign up to sponsor:
https://www.cognitoforms.com/HoCoPride/GayDayTheMillSponsorshipForm?fbclid=IwAR1zb32IpMB9jAOVYsVPFXzofwGOJ8gncBD5muEXiB5zZT9er3T8NQJn_i4