My First RPG. No Thank You Evil!
October 12, 2019 @ 11:00 am

-

12:00 pm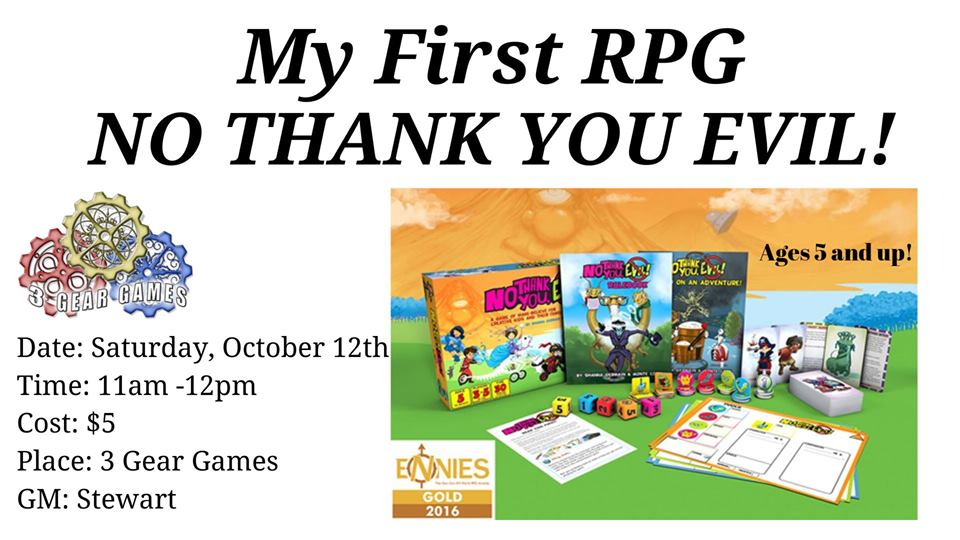 My First Role Playing Game Fun for Children and Adults!
Learn 2 Play No Thank You Evil! by Monte Cook Games
A game of make – believe for creative kids and their families.
– Great for ages 5 and up!
– Each game takes only 30min to play.
– Bring your kids and start their love of role-playing at a young age.
-Date: Saturday, October 12th
-Time: 11am -12pm (we will probably have 2 30min sessions depending on who shows up)
-Cost: $5 Kids 8 and under play for only $3!
-Place: 3 Gear Studios
-Slots: 6 Players
GM: Stewart
"Scalable rules adapt easily to the abilities and interested of kids. Your options are limited only by your creativity. It's all up to you!"
Minors MUST be accompanied by an adult.
RSVP here though Facebook , In Store or send us an email with your name and that your RSVP ing for No Thank You Evil! at 3geargames@gmail.com