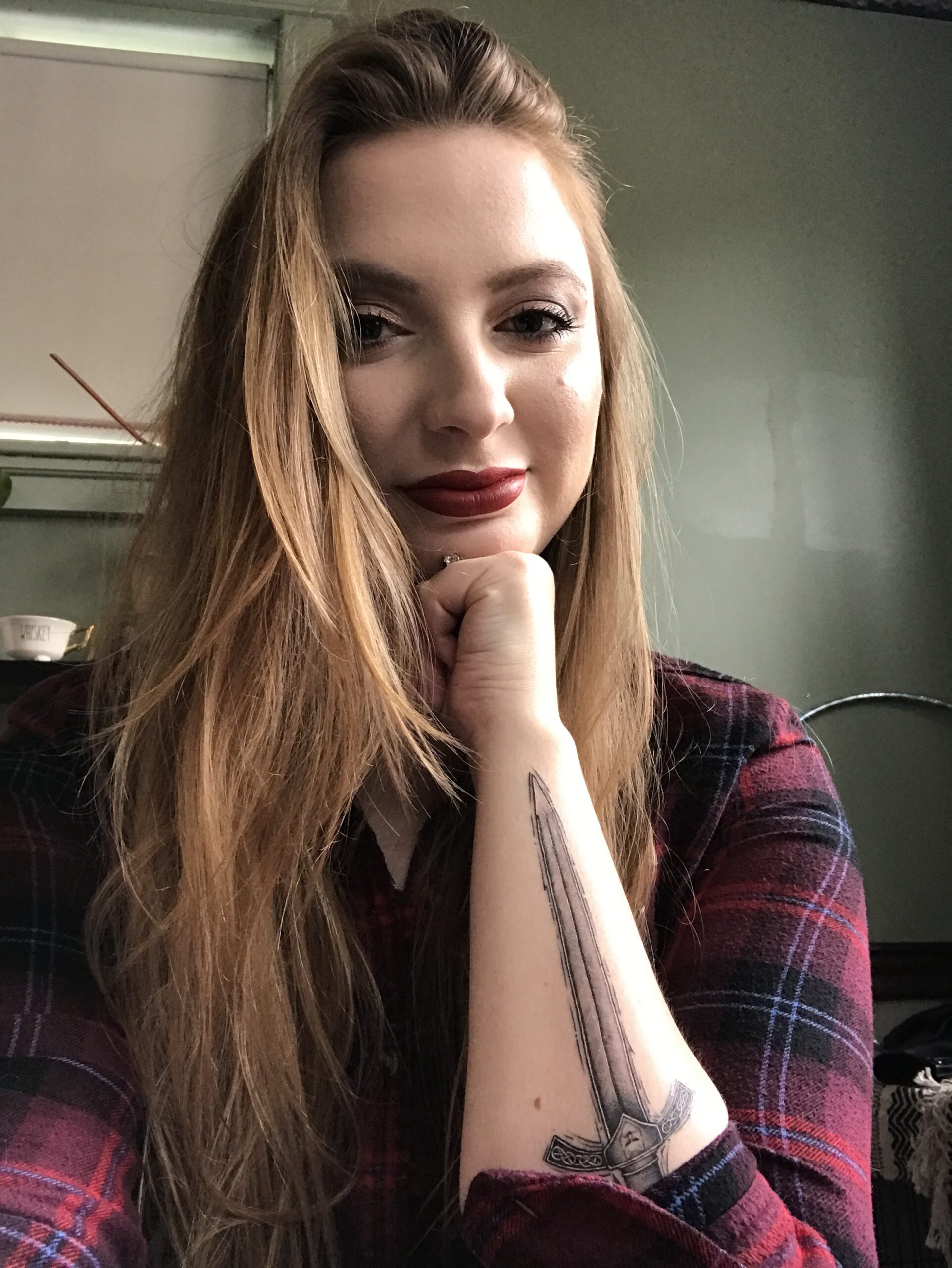 As a way to celebrate and take the new year by the horns, we are starting a new series called Julie Tries. Our Director of Marketing and Communications, Julie, will be going around to all the different businesses in Savage Mill and trying out their activity or service. First on the list this year was getting a tattoo at Raven and Rose Studios. Check out her video here!
As part of this new series we want to take a deep dive into the lives of our business owners. Get to know Hannah Everhart's story of being a tattoo artist!
How did you get into tattooing?
I have wanted to tattoo since I was seventeen! I joke now that it's because I failed in music – which is totally true I'm just not cut out for that industry. I had gotten into my high school on a music scholarship with a focus in musical theater but it ended up being really unhealthy for me mentally. Instead of taking additional music classes, I started taking art classes to fill the rest of my electives and I absolutely fell in love with it. At the time, tattooing was becoming more and more mainstream with tv shows like LA Ink, Miami Ink, etc. and Kat Von D was a household name. I was bullied a lot, and decided that I was going to be a badass lady tattoo artist like her and no one would ever mess with me again. In 2012 at 21 years old, I finally got a tattoo apprenticeship and a year later started tattooing. It was a very long, very hard road but I honestly can't see myself ever doing anything else.
Why did you pick Savage Mill?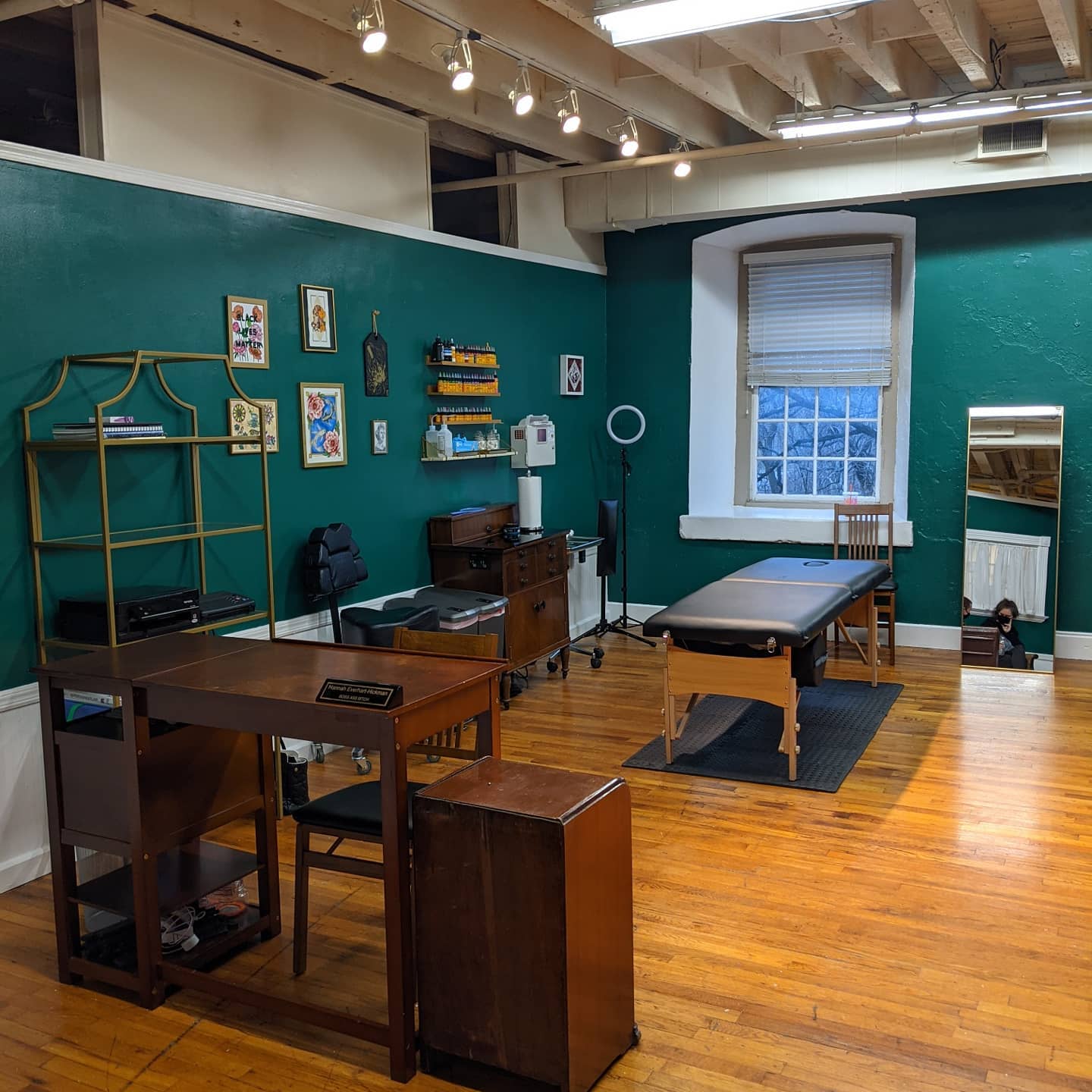 Opening my own shop has always been the dream, and was the five year goal when the Covid -19 pandemic hit in 2020. Leading up to the pandemic I was tattooing full time in DC with an hour long commute each way, and didn't have a whole lot of time to plot out this next move until I was out of work for three months. In this time I was able to run the numbers and with the commute, the parking, and the reduced amount of clients I could see for safety reasons, it just wasn't cost effective for me to continue in the position I was in. I had considered moving to another shop that was already established, but with the pandemic and the risk of being around so many other people, I just didn't feel comfortable and I didn't want to risk my safety and the safety of my clients. I knew I would be much more comfortable in a smaller space that I could control. Finding a space was the hardest part surprisingly – despite the move so many were making from office work to telecommuting and so many office spaces available to lease, the stigma of tattooing stuck. Hard. I have certain requirements I have to meet per OSHA because I'm handling blood. I must have a sink in my unit for handwashing, and I can't have carpeted flooring for example. When I explained this to all of the commercial realtors I spoke to, I was told "we only lease to professionals", "we don't want retailers", and "we're not interested in that kind of business". It was really disheartening. Anyone who knows me or has worked with me knows that I look and sound more like a Disney princess than I do a tattoo artist – I'm really just here to tattoo flowers and pet portraits and go home not throw crazy rowdy "tattoo parties". That's when I saw that Savage Mill had spaces available! My parents both grew up in Bowie, and my mom had brought us here for "antique looking" when we were kids. I started to get cautiously optimistic, so I reached out. I cannot tell you the surge of both relief and excitement when Stuart wrote me back stating how excited the Mill would be to have a private tattoo studio and that he had a few spaces he thought would work. When I came in for the tour, I knew it – Unit 204 was THE ONE. I was so excited when I got home that I ran the numbers four times to make sure we could swing it. The rest is history – we signed the lease in October of 2020, moved in December 1st, and opened in January 2021. I am so happy we moved here, this is definitely the spot for us (I have an apprentice Ray who works here too): it's peaceful, the building has so much character, our neighbors are lovely, and our clients love it here. Even our ghost seems to like us :).
Is it true you were casted on Ink Master?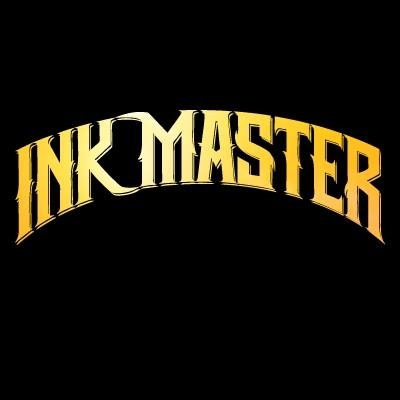 I was! I was originally contacted by Ink Master in 2019, but I thought it was a hoax so I ignored it, and I still feel so stupid for that. When they reached out again in January 2020 I jumped at the chance – I was really excited to have the opportunity to meet and learn from other artists and really push myself beyond what I had ever done before. Contracts were signed and I was pending my psych evaluation (contest shows like these mean close quarters and a lot of pressure, so they do a psychological evaluation for all participants for everyone's safety and well being), when I got the call that the season's filming had been postponed. They filmed in Brooklyn, and as we all know New York was hit really hard and really fast. I was told they would let me know when they were able to resume, but in September 2020 they announced that the show had officially been canceled by the network. While I was super bummed to have missed my chance to really put myself and my work out there in such a way, I'm almost glad it didn't happen. If they contacted me tomorrow I would still absolutely do it, but the original plan after doing Ink Master was to take advantage of my new expanded client base and move to a shop closer to home to save the money in order to open my own studio at a later date. With the downtime the pandemic shut down gave me, I was able to really sit down and plan out what it would take for me to open my own space and I realized I was able to do it anyway. I never thought for a moment I would actually win Ink Master, and while I was super looking forward to the learning experience I am really glad I didn't have to cry or embarrass myself on national television to make my tattoo studio dreams come true!
What should everyone know before getting a tattoo?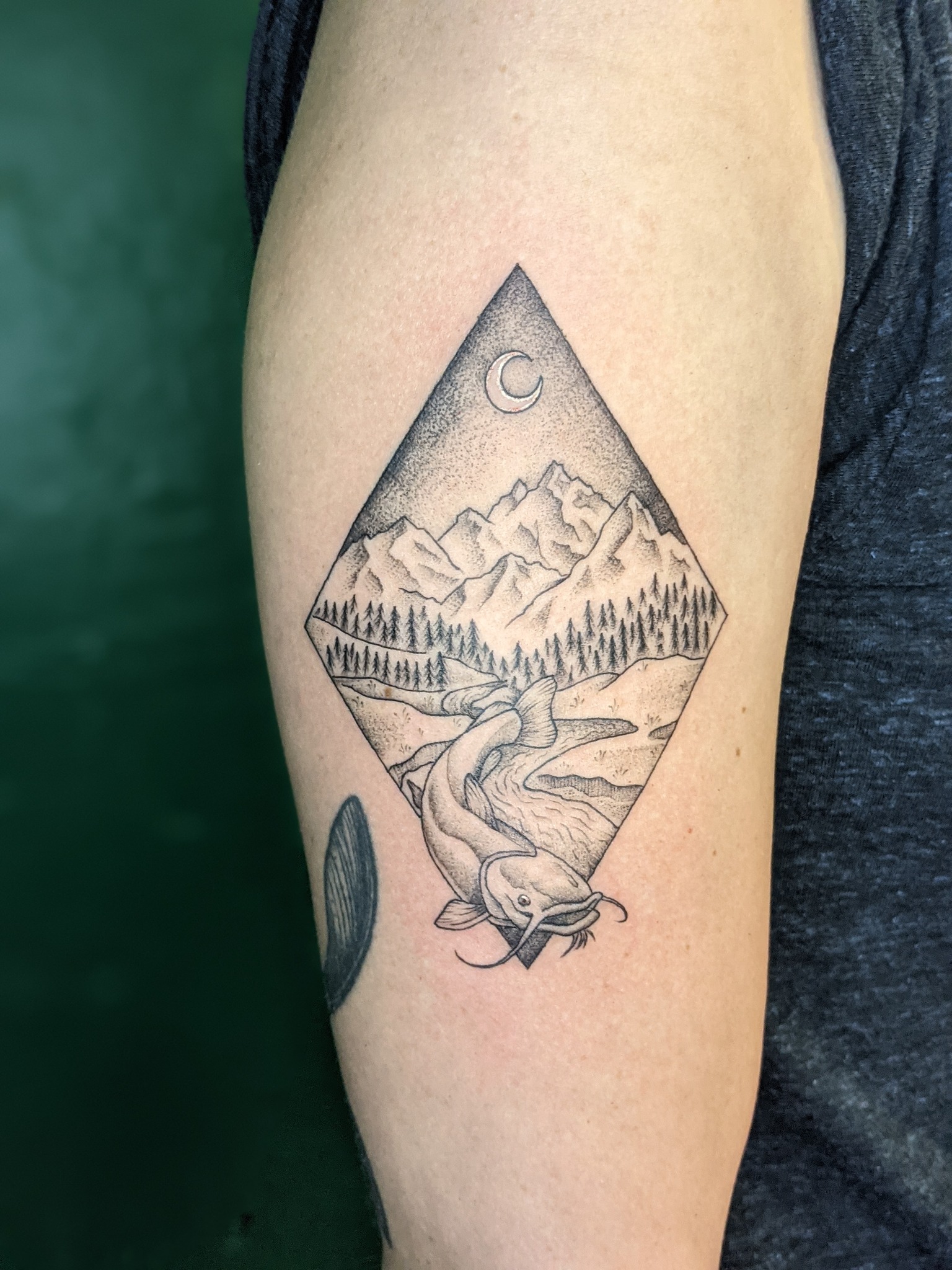 There are a few things I would recommend before getting a tattoo. The first is research! Research your artist and make sure they do the work you're looking for. Not all artists do all styles of work, so if for example you're looking for a fine line tattoo, make sure the artist you choose has lots of fine line work in their portfolio. Research the shop they are working out of to get an idea of what to expect: locale, parking, accessibility, and even their customer service and cleanliness. The more you know about your artist and where they're working, the better of an experience you will have because you'll know what to expect. The second is to speak up! If you've done your research you'll have your best chance at getting the artwork you really want, but sometimes the merging of ideas between you and your artist doesn't always come out the way you planned. That's okay, this is part of our job! I strongly encourage you to speak up! I know working with a tattoo artist can sometimes be intimidating, but you are the one who has to live with this piece for the rest of your life. A good artist should be able to communicate what parts of the idea work and if there are any parts that don't, and they should be willing to work with you on getting the art where you both agree it would work best. Be open to their suggestions and their professional opinion, but understand at the same time that if you're not happy with the design or the way it's being communicated to you that it's okay to walk away. It's better to have no tattoo than a tattoo you don't want with a negative experience attached to it. And if your artist is making you uncomfortable, trust your gut and leave. The third is to make sure you eat before coming in for your tattoo! This one is super important and a step I think a lot of first timers miss because they're afraid of getting sick. Nothing works better for the discomfort of getting a tattoo than making sure you're properly fed and hydrated before your appointment. When you get tattooed, a few things happen – one of which is a drop in blood sugar. If you have nothing in your system to begin with, the adrenaline that kicks in has little to nothing to feed on and can leave you feeling dizzy and nauseous leading to fainting and/or vomiting. So be sure to eat at least two hours before your tattoo, and if you start to feel "woozy" tell your artist immediately (and if you faint – don't be embarrassed! It happens more than you think, I promise we're used to it). And a little side note for after you get your tattoo – if you have any questions about the healing process, ask your artist directly! This is very important as a lot of artists use different healing methods and don't always give the same instructions for care. Stay off of places like Reddit and Facebook, and just go straight to the source!
What is next for you?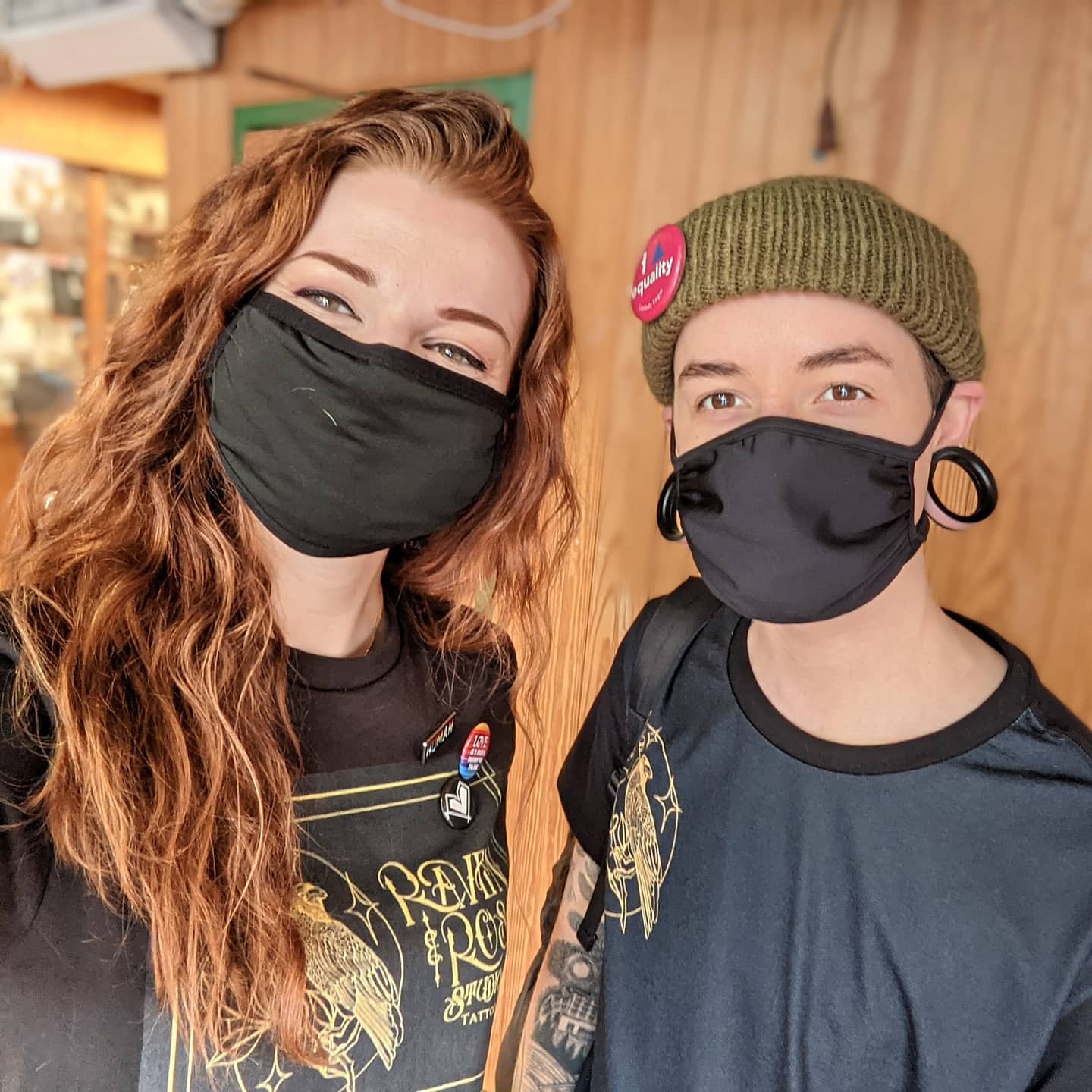 Well, on a personal level I decided to go back to school and start my Associate's Degree in Visual Arts this past Fall. The tattoo industry as a whole is seeing more and more artists with fine art backgrounds, and that has had a huge impact on the tools that are used and the level of work being produced. I wanted to go back to school to really hone my fine art education and use it in my work to stay competitive. In this field you have to keep learning to stay relevant as it's very easy to fall behind and "out of style". Because of my full workload currently, I can only take one or two classes at a time but I already feel more confident in my approach to certain projects, and I'm really excited to see how I can implement what I am learning in my tattoos. My husband and I are also expecting our first baby in May of 2022! We are so excited for this latest addition to our family! And of course this means I will be taking some time off this summer to get the hang of this whole mom thing, so I will be on leave from May until the beginning of September but we are working to get some traveling guest artists in the shop while I am gone! As far as the shop goes, my awesome apprentice Ray starts taking clients in January of 2022! They've been working so hard and they've wanted this for so long, I am incredibly proud of them for taking such a huge step (and I'm not just saying that because I'm their sister). If anyone is interested they are offering small tattoos at a discounted rate, so be sure to shoot us a tattoo request on our website! We are also looking to hire either another tattoo artist or a body piercer full time for 2022. I almost cannot believe that it has been a year since we've opened, and not only are we still here but we are thriving! My biggest fear in all of this was "what if I build this and no one comes?". I am so incredibly humbled by the fact that this was not the case. We would love to share this opportunity with a new member of our team and be able to offer more services for our amazing clients in Savage Mill – possibly in a larger studio space in the Mill that I've got my eye on – but we'll see 🙂 Otherwise, I just want us to have another great year like this one!
Check out their work at @ravenandrosestudios on Instagram and Facebook, and head to www.ravenandrosestudios.com to fill out a tattoo request form!