Savage Mill prides itself on being an incubator for small local businesses. When it came time to planning the food and drink for our second annual Rhythm and Brews Festival, we knew we wanted to include some in the festivities, and have we got some treats for you!
Local favorite Crooked Crab Brewing Company, founded by three Maryland natives and University of Maryland graduates in 2018, is joining us for the festival. Among the beers they'll have for tasting and purchase as single or 4-can packs will be:
Juicy, hazy beers are all the rage these days, and Crooked Crab's Haze For Days New England Pale Ale is a super juicy and flavorful tropical version! Malty wheat, silky oats, and honey malts form the body of Haze, and a healthy dose of American Citra and New Zealand Motueka hops lend unique tropical aromas. And at 6.2%, it's an easy drink to enjoy, and absolutely perfect for those summer days.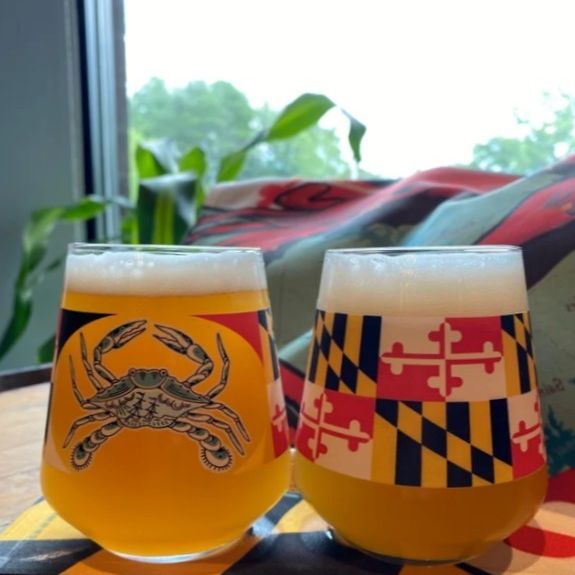 Furious George Hefeweizen, a light-weight champion of monkey knife fighting who packs a punch of fruity flavor. Brewed with a base of pilsner and malted white wheat and hopped lightly with Huell Melon. Fermented aggressively with a traditional German Hefeweizen yeast to promote the production of isoamyl acetate, which smells and tastes like banana! Flavors and aromas of yellow Laffy Taffy, banana pudding, light honeydew melon, and just a hint of clove.
Pils-Boh Baggins – a pilsner described as "Do you have an unquenchable thirst from scaling the slopes of Mordor? Satisfy it with a refreshing Pils-Boh Baggins, our first ever Bohemian Pilsner. Brewed with pilsner and vienna malts for crisp clean drinkability and +5 charisma! Fermented colder than the peaks of the Misty Mountains with a traditional Czech lager yeast, then hopped exclusively with Czech Saaz for a delicate floral spicy noble hop character."
Finally, the intriguingly-named Highway To The Flavorzone Vienna Lager.
Our very own Savage Mill-based Dive Bar & Grille will sell wine by the glass along with a special festival cocktail for the occasion.
Getting hungry? Columbia-based Bullhead Pit Beef will have their food truck on site selling sandwiches, tacos, sides and desserts. Their menu sounds tasty – what's not to love about pit beef and turkey, pulled chicken, pork tacos, garlic fries, mac-n-cheese, and coleslaw?
With the lineup of fantastic music and delicious food and drink, we're looking forward to a fabulous afternoon!