Love is in the air this week. To celebrate, we caught up with our friend Andrew to talk about his special connections to the Mill.
When did you first hear about the Mill?
I grew up in Laurel, Maryland and have visited the shops at Savage Mill for as long as I can remember.
How long have you been working here?
I have been working at The Last Word (formerly known as Books With A Past) since August 2017.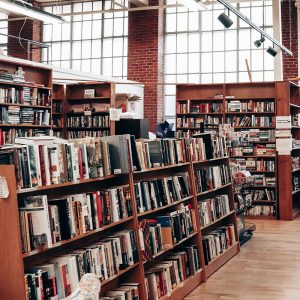 Talk to us about your personal connections to the Mill.
I have had countless memorable experiences at the Mill. I'm nostalgic for the times I visited when I was little, as well as the shops that I remember visiting that have since changed over time. I feel that as I've grown older, the Mill has grown up with me, so much so that it is now undergoing a kind of modernization and rebranding that I find emblematic of its maturation.
Are there certain things about the Mill that are particularly meaningful to you?
I fondly look back on celebrating one of my friend's Bat mitzvahs in the Great Room in 2009. In addition, shortly after I began working at the Mill, I met my fiancé here for the very first time. While there were many opportunities for us to encounter each other during high school (Go Gators!), our paths truly felt like they weren't meant to cross until we met at the Mill.
Why did you choose the Great Room for your wedding?
The Mill is a special place for me and my fiancé, as we not only met here, but we each have a separate history with it. We both worked here (my fiancé previously worked at the Rams Head Tavern) and we've lived near this community for most of our respective lives.
"The Mill is a special place for me and my fiancé…
What else would you like readers to know about the Mill or the town of Savage?
There is a power and a charm that surrounds the Mill and all of Savage that needs to be experienced in person. The rich history, friendly community, and unique experiences are exciting and comforting all at once!
Thank you for sharing your personal story, Andrew! We're sure there are many other stories of love starting here at the Mill. We'd love to hear yours!