Savage Mill functioned as a working cotton mill for over 125 years. It was one of hundreds of textile mills that played a pivotal role in transforming American society during the Industrial Revolution as our nation transitioned from an agrarian-based society to an industrial one.  
Although our complex of buildings still stands as a tangible legacy, it's hard to imagine what life must have been like for those who toiled and lived in towns like this one. After all, the workers and massive machines have been gone from Savage Mill for over 70 years. 
Read this imaginary letter from a young woman to get a glimpse into what life was often like at mills like this one a century or more ago.  
Dear Mother, Father, and Family, 
I'm so excited to be here! It's certainly different from on the farm – I don't need to get up at the crack of dawn to feed the chickens and prepare breakfast before Dad and the boys get in from the barn. The boarding house is full of "mill girls" like me who've moved here from all around the area. I like my roommate, and I'm looking forward to making some friends. The best part is that someone else makes all the meals – three meals a day are included in my room and board – and there doesn't seem to be a shortage of good food.  
This week was a whirlwind. I started work in the spinning building on Monday morning. There are about 200 workers, most of whom live nearby. Young people like me live in boardinghouses, and a lot of families rent houses that the company owns.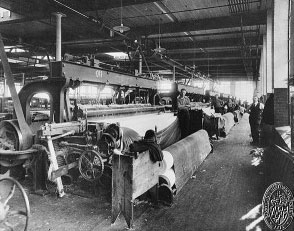 My job is to make sure the machine that spins the cotton into thread works. Our shifts are 12 hours a day Monday to Friday and half a day on Saturday.  
It's hard to talk much while we're working because it's so noisy, but I'm getting to know other workers during our breaks. Some people have whole families working here. One woman who's a widow has three children working with her to make ends meet. Her younger son is 7 years old, and his job is a doffer, which means he takes the full bobbins off the machine. Her daughter is 10, and she works in the spinning building too, cleaning lint off the machines and repairing threads when they break. She usually heads home a little early to prepare the family's meal.  The older son is 12, and he is now officially working for the Mill as a sweeper. There's cotton fluff everywhere, and we couldn't function long without his help!  
I miss being outside in the fresh air. I've heard a lot of people have problems with their lungs because it's so dusty everywhere in the mill. Someone just 19 years old – the same as me! – started coughing a lot and is in the hospital.  
There's a company store here in town where I did my shopping today. That's a big help because I'd hardly have time to fit it in if I had to leave town to get things. It seems I'll be able to save money each week since other than paying for my room and board, I don't have many expenses. 
Tomorrow morning my roommate and I are going to walk to the church in town for services. It was built by the Mill's owners. In the afternoon we're going to have a book discussion in our parlor, and some girls will play the piano.  
I miss you all terribly, especially the little ones. I'm sure the time will go quickly until our summer break. Please do write. 
Fondly, 
Rachel