It's an unending labor of love to maintain and preserve historic buildings like Savage Mill. Adapting them to today's needs is particularly challenging. Savage Mill's management has spent decades working to ensure this complex of buildings is here for future generations. The last couple years, the team has also turned their focus to improving the visitor experience.
Case in point: the recent work at the Cotton Shed building.
The Cotton Shed
The Cotton Shed was built to – you guessed it – store the cotton that was needed during the years the cotton mill was in operation (approx. 1816 to 1947). Trains crossed the Little Patuxent River in the same location where the Bollman Truss Railroad Bridge stands today. Workers standing at the open doorways of the first and second floors of the Cotton Shed (small building in the lower-left foreground in the photo below) utilized a freight elevator to lift the bales of cotton into the building. From there, the cotton traveled first to the Carding Building, where the fibers were cleaned and prepared, then into the Spinning Building, where it was spun into thread, and finally into the Old or New Weave buildings, where massive looms spun the thread into cotton duck, a type of heavy fabric that was in big demand for ship's sails, wagon covers, tents, and more.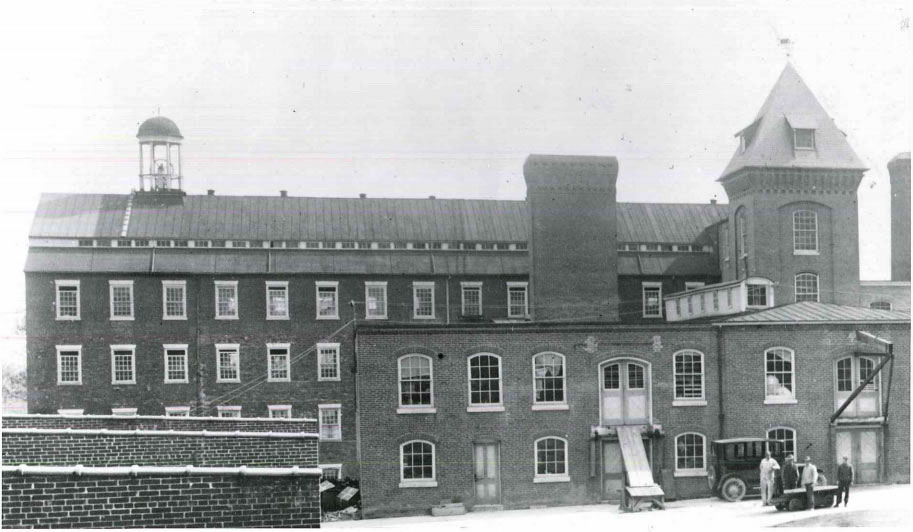 Freight Elevator Pulley System
The Cotton Shed still boasts the original freight elevator pulley system, visible along Foundry St. above Brewing Good Coffee Company. Over the past week, the corrugated silver metal sheeting surrounding the shaft has been replaced with black sheeting boasting the new Savage Mill logo. Additional improvements including new wood supports and paint on the shaft will complete the facelift.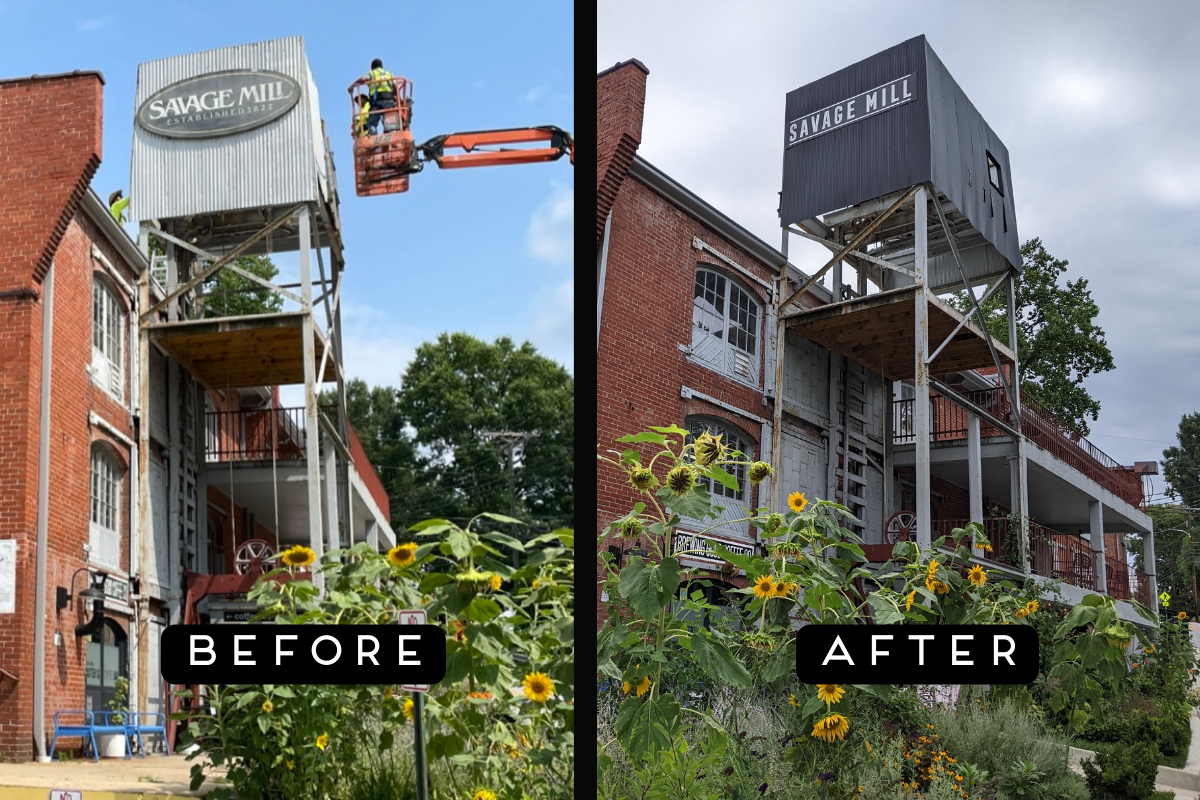 Cotton Shed Atrium
On the opposite side of the Cotton Shed, the sunken atrium adjacent to the Little Lot flaunts a new vibe. Small seating areas illuminated by string lights invite visitors to linger and enjoy the gentle breezes from the newly-installed fan. New AstroTurf flooring and shiplap make for an attractive, cozy area. This is the perfect place to take a break from visiting the adjacent Omnihedral Game Store, JMD Dance Studio, or Art of Hair (The Salon).

Please stop by Savage Mill and spend some time exploring these improvements. Browse the numerous small businesses that call the Mill home. Immerse yourself in the tangible history that helped fuel the Industrial Revolution. And know that by supporting the businesses here, you are playing an important role in helping preserve this American legacy.