Intro into Paper Cutting – Learn paper cutting basics while creating a single layer paper cut and building a good paper cut foundation!
About this event
3-Day Intro into Paper Cutting with Jennifer Hudson, September 11th, 18th & 25th
For everyone's safety, Teachers & Students are required to be vaccinated & to wear masks, thank you.
Intro into Paper Cutting will allow students to learn paper cutting basics that they will be able to build upon. During this 3-day class students will work on a single-layer paper cut, learning how to use pattern and other paper cutting techniques to create different tones and textures. They will also learn how to assemble and design a paper cut piece and how to use basic paper cutting tools. This class gives students interested in paper art a good foundation to start their paper cutting journey.
3-Day Intro into Paper Cutting with Jennifer Hudson
Dates: September 11th, 18th & 25th / 3 Saturday classes
Times: 2 pm – 4 pm
Cost: $85 per student
Class Size: 12 students, max
Using an X-Acto knife and her imagination, Jennifer Hudson is able to create delicate lace-like works that display movement and texture from paper. Her works depict her love of nature and storytelling. Jennifer is a Maryland based cut paper artist and acrylic ink painter. She graduated from The Baltimore School for the Arts in 2014 with a concentration in painting. Soon after Jennifer became interested in the world of contemporary paper art. Jennifer has been with HorseSpirit Arts Gallery since 2017, and a member of the Guild of American Paper Cutters since 2020. Jennifer participates in shows across Maryland.
Payment Options:
Call HorseSpirit Arts 301-490-2001, credit card, $85.00, no fee
Visit HorseSpirit Arts Gallery, cash, gift card, or credit card, $85.00, no fee
Eventbrite, $85.00 plus $6.81 added EB fee totaling $91.81
Please know that while tickets are not refundable, they are transferable to someone of your choosing.
HorseSpirit Arts Gallery is in a renovated 1822 barn and our classroom is on the 2nd floor accessible only by stairs.
There is no elevator, but we will assist in carrying any supplies.
In the event this workshop is canceled you will be notified via email.
Supply List: The following items are required to participate in this class. Jennifer recommends purchasing items through the links provided. Please keep in mind when ordering from Blick (https://www.dickblick.com) items tend to arrive 2 weeks after purchase. Questions can be sent to: jenhudsonarts@gmail.com
1 – X-Acto knife https://www.dickblick.com/products/x-acto-1-knife/
3- packs of size 11 blade replacements in the 15-pack safety dispenser packaging https://www.dickblick.com/items/x-acto-replacement-blades-no-11-pkg-of-15-safety-dispenser/
1- Alvin 8 1/2in x 12in cutting mat https://www.dickblick.com/items/alvin-cutting-mat-8-12-x-12-greenblack/
1- Fine Line Precision Applicator bottle package of 2 with size 18 tip https://www.dickblick.com/items/fineline-precision-applicators-18-gauge-tip-pkg-of-2-refillable-bottles-wtips-125-oz/
1- 4 oz bottle Elmer's White Glue-All https://www.dickblick.com/items/elmers-glue-all-4-oz/
1- 19inx25in sheet Canson Mi Tientes paper in white https://www.dickblick.com/items/canson-mi-teintes-drawing-papers-19-x-25-white-single-sheet/
1 – 19inx25in sheet Canson Mi Tientes paper in black https://www.dickblick.com/items/canson-mi-teintes-drawing-papers-19-x-25-black-single-sheet/
1- small metal palette knife https://www.dickblick.com/items/blick-painting-knife-3-flat/
1- metal ruler https://www.dickblick.com/items/blick-stainless-steel-ruler-12-cork-backed/
1- small plastic container (for discarded blades and scraps)
1- colored pencil, any color https://www.dickblick.com/items/blick-studio-artists-colored-pencil-set-tin–set-of-12/
1- mechanical pencil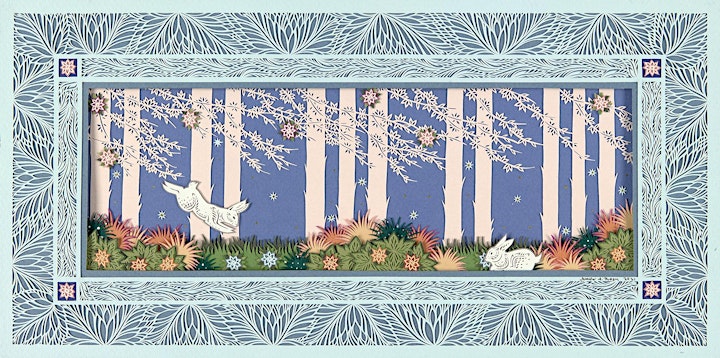 "Emerald Elephant" & "Run Rabbit" paper cuts by Jennifer Hudson