May 16 was National Do Something Good for Your Neighbor Day, and we had a sense that the merchants here at the Mill would have some stories to tell about how they and their neighbors help one another out. After all, the Mill is like a small village, a place where you can turn to someone nearby to lend a helping hand, to borrow that proverbial cup of sugar.
You Can't Stay Away for Long
Those who've shopped at Savage Mill in years past will remember Bead Soup, a store where you could find an array of beads in all sizes, beading classes, and more. We're happy to announce that they've returned and have opened their doors in the Old Weave building across from Clay Coven, creating a type of maker's space at the Mill! Earlier this spring we said a sad adieu to The Queen's Ink as owner Patti Euler closed her store after 18 years with us. We're happy to report that she was sighted yesterday at Bead Soup, discussing an upcoming class she'll be holding at Bead Soup. This wonderful collaboration will certainly benefit both businesses. And word is out on the street that Candles by Candy and Omnihedral are in discussions with other merchants on exciting partnerships too – keep an eye out!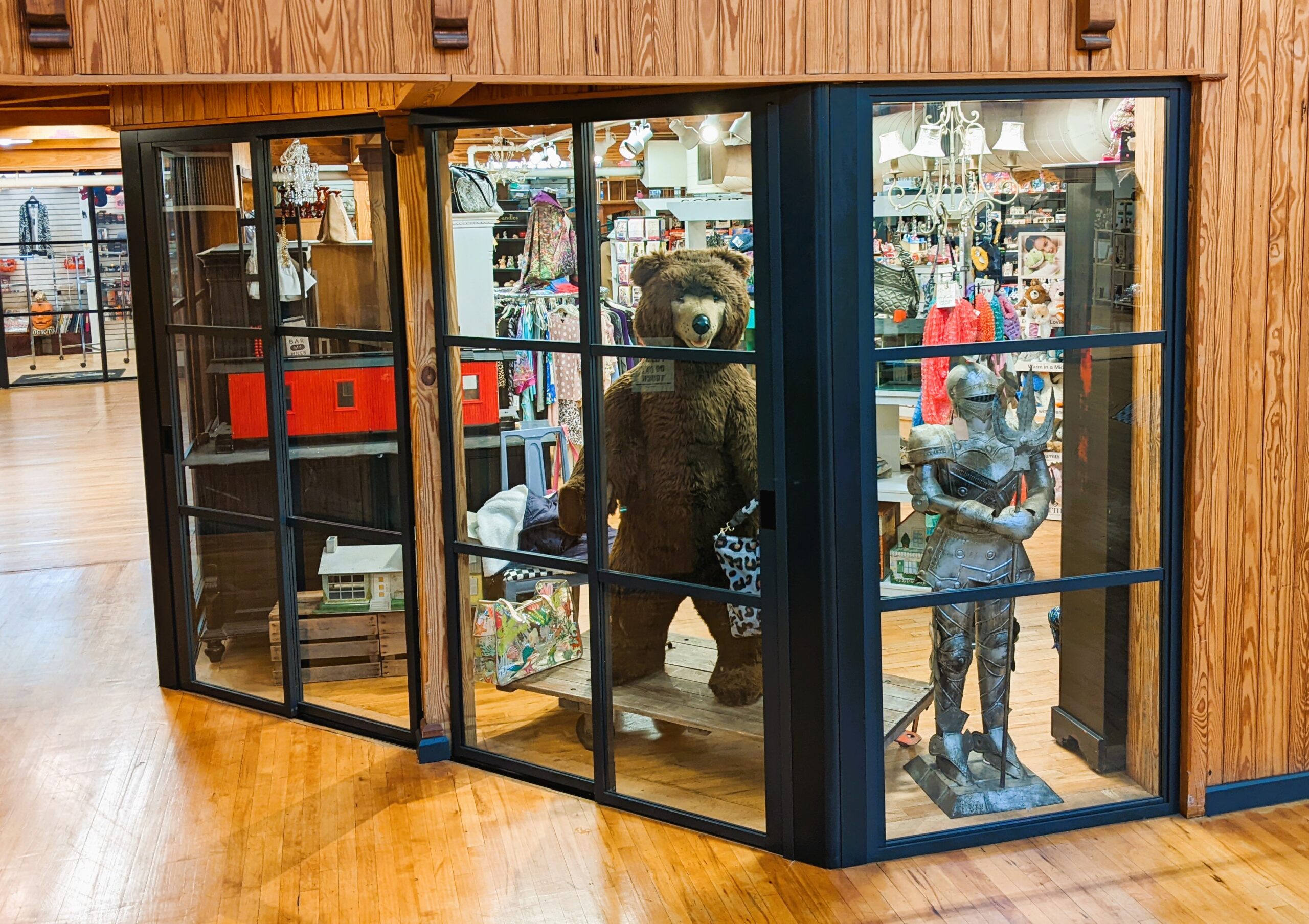 We All Need a Hug
Bearing Gifts, another anchor retail store here at the Mill, enjoys a prominent corner location with plenty of room for storefront displays. Pete the Bear stands front and center, presiding over the comings and goings – and passersby are drawn to him. For many children and more adults than you'd think, a visit to Savage Mill isn't complete without stopping in at Bearing Gifts to give Pete a hug. Despite many purchase offers, Pete isn't for sale, ensuring this important ritual can live on for years to come. And Bearing Gifts' neighborliness extends beyond hugs – somewhere amidst their treasure trove of gift items, they stash the tools needed to repair dress shoes for guests heading to The Great Room for weddings and other fancy occasions! They also find that what goes around comes around – a 9 volt battery they received from Clay Coven as a thank-you for the loan of one was subsequently borrowed by maintenance staff to do work inside Clay Coven's shop. And we'd be remiss if we didn't mention the alcohol-infused gummy bears Bearing Gifts prepares and give outs to other merchants during Girls Night Out!

A Spirit of Support
Relative newcomer Leslie, owner of Jules + Kate, marvels at the support businesses show one another. "Staff from Artcraft and Bearing Gifts refer people to my store if they don't have an item and know I do. In fact, they've sometimes even accompanied shoppers to my store," Leslie explained. The Last Word bookstore refers people to her for puzzles and cards and purchased one of her puzzles to have out for their customers to enjoy. In turn, Leslie has decided not to stock books, happily referring shoppers to the bookstore's extensive selection instead.
Serendipity
We headed to the third floor of the Carding Building to see what stories we could unveil. Walking down the corridor, we came across some painters getting the offices ready for Corner House Realty to move in. A conference table in one of the rooms caught our eye – wasn't it in another office the last time we were here? At the end of the hallway we met Kate McCullough with Symmetry First Architects, who was only too happy to chat for a minute about the story of the conference table. "Back in 2004 a tenant on this floor was moving out and realized the table wouldn't fit in the elevator, so we bought it from her for a nominal fee," Kate explained. Almost twenty years later, Kate no longer needs such a large conference table. Back down the hall, State Farm's offices were vacant as Mike Derocher had moved to the second floor. To simplify his move and ease the transition for Corner House Realty, the new tenant in that suite, Mike arranged to leave behind a few items, including a small conference table. Kate couldn't help noticing the small table, and when she met the friendly folks with Corner House Realty, she broached the subject of her large conference table. It was a match made in heaven – it turns out Corner House Realty had just been talking about how they needed a larger table than the one left behind.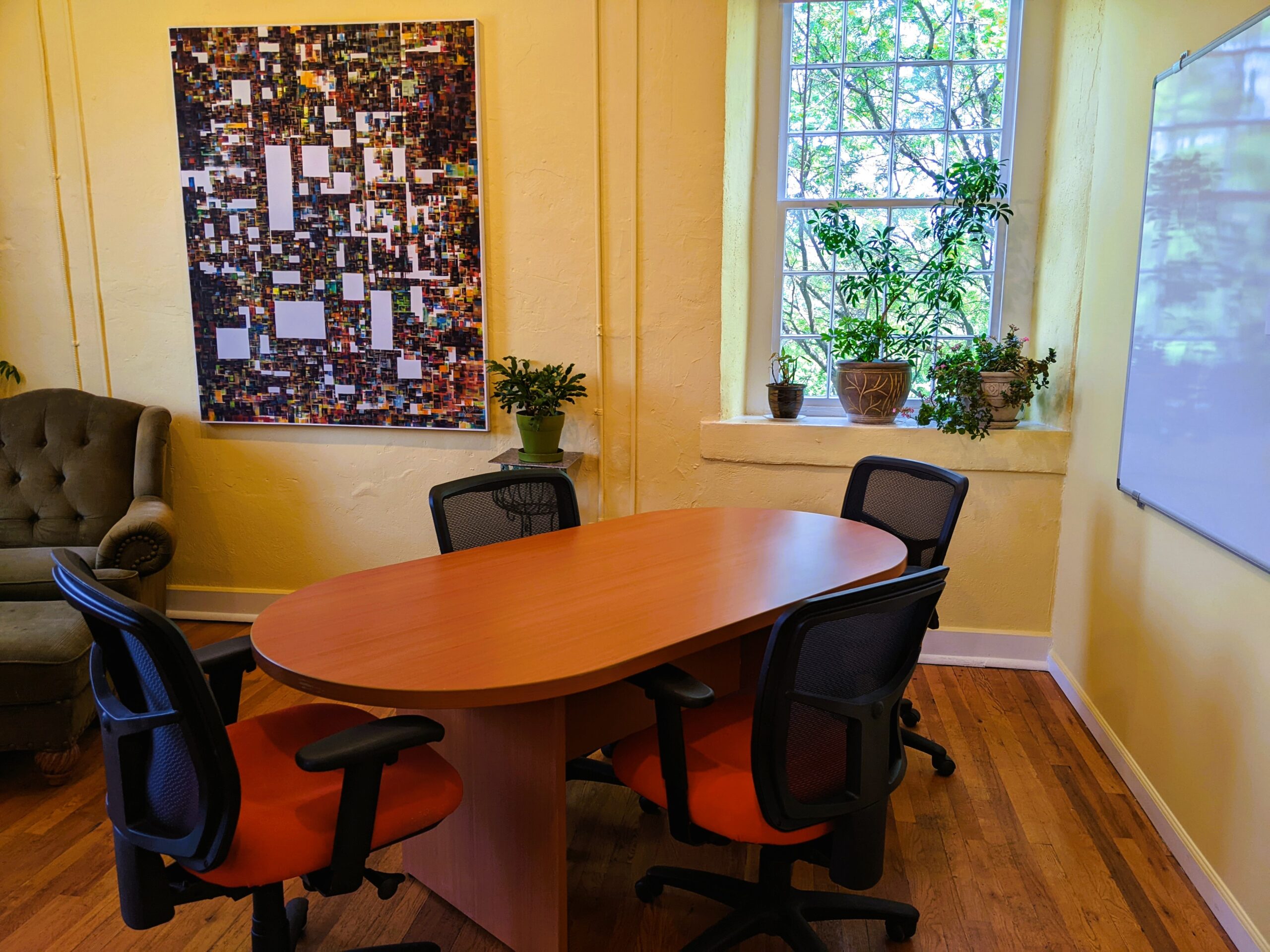 The spirit of a small town isn't just alive and well in the town of Savage itself, but within the walls of this historic cotton mill. It's a big part of what makes visiting here special. We invite you to stop by soon to see what serendipity awaits you!